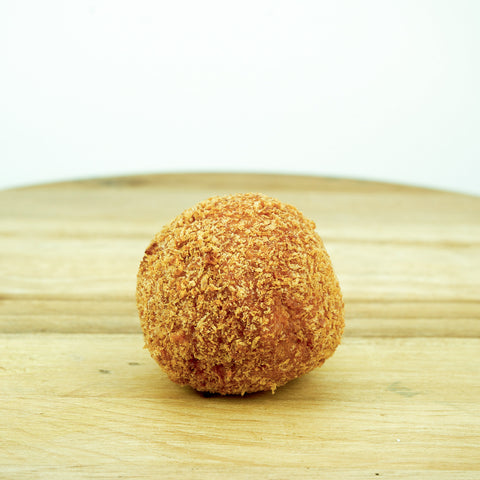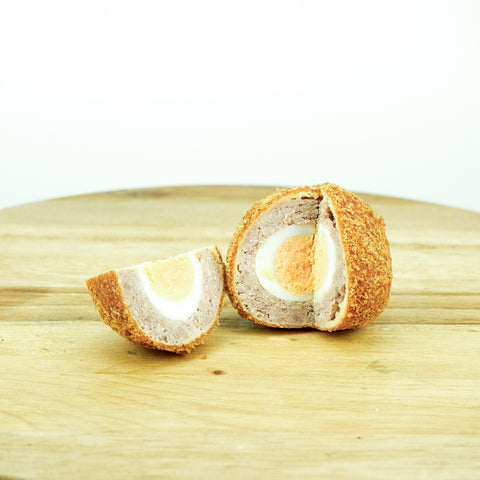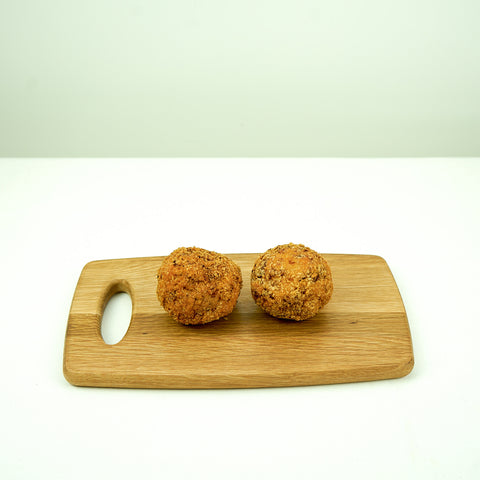 Traditional Scotch Egg
Experience the nostalgic flavours of the Traditional Scotch Egg from Walsingham Farm Shop. A staple of British picnic fare, this classic snack marries our savoury, local sausage meat with a perfectly boiled egg, all coated in a crispy breadcrumb shell.
Our Scotch Egg starts with a free-range egg, enveloped in a layer of our top quality sausage meat. This is then encased in golden breadcrumbs and cooked until crisp and delectable. The result? A delightful combination of textures and flavours that's sure to please.
Choosing our Traditional Scotch Egg supports local farming and ensures you're enjoying a top-quality, responsibly sourced snack.
This product contains one Traditional Scotch Egg, perfect for on-the-go, picnics or a satisfying lunch.
This product will arrive fresh with a minimum of two days shelf life when it arrives.
All our frozen products are flash frozen here at Walsingham Farm Shop to preserve the best flavours during transit so any pie you buy will need cooking thoroughly before consumption.
Approximate weight: 150g.
Ingredients: Sausage Meat (Pork Trim (20% Fat), Rusk (WHEAT Flour (Calcium Carbonate, Iron, Niacin, Thiamin) Salt (contains E535 anticaking agent) Ammonium Bicarbonate (E503ii) (process aid), Water, Ground Mace, Ground Black Pepper, Salt, Preservative (Salt, Preservative (E221 (SODIUM SULPHITE))), Flour (Wheat Flour (WHEAT Flour, Calcium Carbonate (E170), Iron, Nicotinamide (Vit B3), Thiamine Hydrochloride (Vit B1)), Bread Crumbs (WHEAT Flour (WHEAT Flour, Calcium, Iron, Niacin, Thiamin) WHEAT Gluten, Water, Vegetable Oil (Palm Oil, Palm Stearin, Rapeseed Oil) Salt, SOYA Flour, Flour Treatment Agent E300, Yeast, Emulsifiers E471, E472E), EGG, Oil.