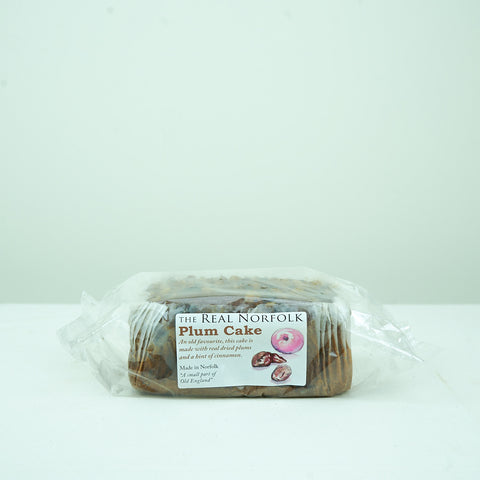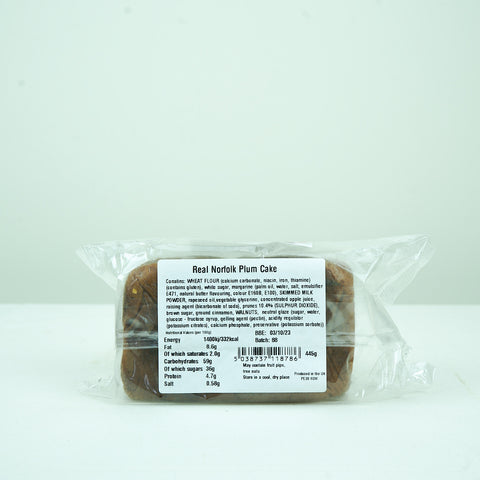 The Real Norfolk Cake Co - Plum Cake
This moist and tender cake is baked to provide a satisfying and simple pleasure. The combination of juicy plums and a hint of spice creates a comforting taste that's perfect with a cup of tea or as a special treat at any time of day.

Enjoy the quality and flavour that The Real Norfolk Cake Co is known for. For the best experience, store the cake in a cool, dry place and consume it within a few days of purchase. Treat yourself to a slice of Plum Cake today!
Ingredients: Contains: WHEAT FLOUR (calcium carbonate, niacin, iron, thiamine) (contains gluten), white sugar, margarine (palm oil, water, salt, emulsifier E471, natural butter flavouring, colour E160B, E100), SKIMMED MILK POWDER, rapeseed oil, vegetable glycerine, concentrated apple juice, raising agent (bicarbonate of soda), prunes 10.4% (SULPHUR DIOXIDE), brown sugar, ground cinnamon, WALNUTS, neutral glaze (sugar, water, glucose-fructose syrup, gelling agent (pectin), acidity regulator (potassium citrates), calcium phosphate, preservative (potassium sorbate)).