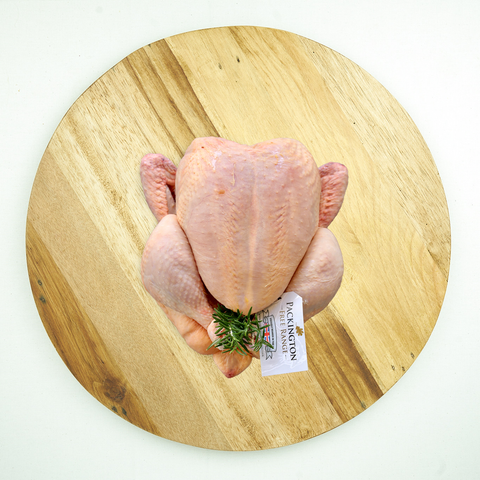 Packington Cockerels
Reach for a Packington cockerel for a unique and delicious alternative to your traditional turkey dinner! Our cockerels are bigger than chickens, and benefit from longer time to grow and mature, providing a deeper, richer flavour. Every bird is hand-reared on a farm, keeping a natural diet without additives or growth enhancers, as well as a stress-free lifestyle. They weigh between 3kg and 7kg and when cooked, will produce an unforgettable succulent, flavourful meal!

Imagine the delightful combination of tender breast and juicy thigh, perfect to share with your family, housemates, or loved one this season! Make a Packington cockerel the star of your Christmas dinner with its unforgettable flavour and succulent texture. Christmas shopping just got a whole lot tastier!
This product is only available for collection or delivery for Christmas.
Ingredients:
Cockerel (100%)
Origin:
UK
Shelf Life:
Minimum 26th December 2023
What is the last date I can place my order by?
All online Christmas orders will be required by 15th December 2023. Orders placed in store are required by 10th December 2023. We recommend ordering as early as possible to avoid disappointment. Due to shortages of certain products we anticipate to sell out a lot earlier than the 15th December 2023.
We try our best to ensure stock levels are accurate at any given time. However, the closer we get to Christmas stock will become unavailable and in the unfortunate instance the size or item you have purchased is unavailable we will contact you directly with alternative options.
What if I want to change or cancel my order?
Once your order has been placed we get to work straight away!
We can alter or change orders for Christmas meat products up to 5th December subject to our approval. Unfortunately, any requested changes after this date especially changing an items size or removing items from an order we will not be able to do. This is due to supplier restrictions and order deadlines.
We unfortunately do not accept any returns or refunds for any perishable items. More information can be found on our refunds policy.
Yes! When you place your Christmas order through our website you will be given an option to choose to either have your order posted or to collect at the farm shop.
This year collections from our Walsingham Farm Shop are:
Friday 22nd December 2023, 9am - 5pm
Saturday 23rd December 2023, 9am - 5pm
Sunday 24th December 2023, 9am - 1pm
Unfortunately, this year we will not be able to offer a Christmas collection from our Norwich Market stall. So we recommend you select the posted option in this instance... or come see us in Little Walsingham!
Please remember to bring your order confirmation email with you so we can quickly find the correct order! Please don't forget if you send someone on your behalf we may require your ID and order confirmation before handing over your order.
If I get my order posted when will it be delivered?
As with all our chilled and frozen deliveries we will pack your Christmas order sufficiently to endure 48hrs+ of delivery.
However, all our perishable goods deliveries are sent either by DPD 24hr delivery or Parcelforce 24hr delivery.
Unfortunately, due to courier demands we would not be able to guarantee a delivery time on the day. We therefore encourage you to either be available all day to receive the items or leave clear and precise alternative delivery instructions when placing your order. You will be able to track your order using the couriers online tracking system. Should you have any concerns please do contact us directly.
This Christmas we aim to dispatch all orders on Thursday 21st December 2023 to arrive Friday 22nd December 2023 or Saturday 23rd December 2023.
For further information see our shipping policy.
Go to top