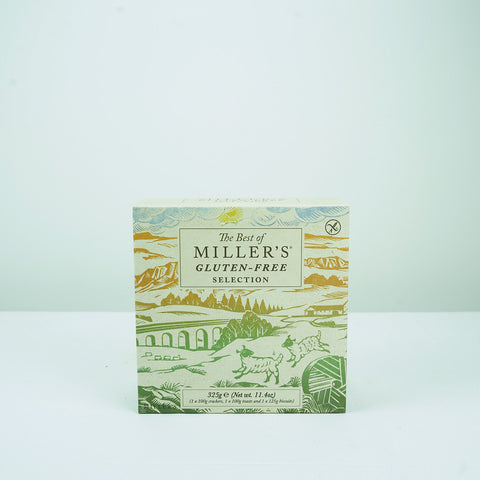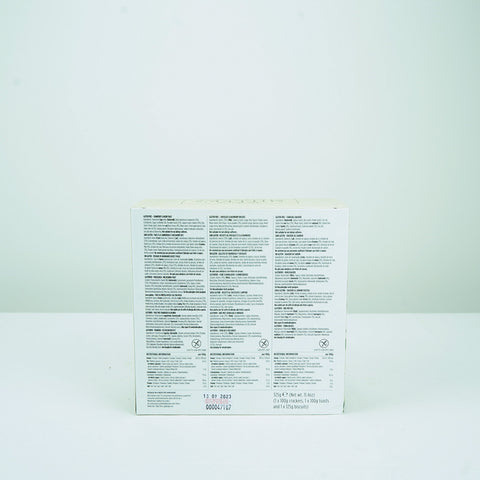 Miller's - Gluten free Cracker Selection
Miller's - Gluten Free Cracker Selection - A premium assortment of gluten-free crackers from Miller's, designed to cater to various taste buds while keeping dietary needs in mind. Each cracker offers a distinct flavour and texture, perfectly suited to accompany your favourite cheeses, spreads, or dips.
This selection includes three types of crackers, each with their unique flavour profiles and ingredients, carefully baked to deliver a satisfying crunch in every bite. Whether it's for a casual snack or an elegant cheese board, these crackers will elevate your dining experience.
As a product with a prolonged shelf life, it allows you to savour this versatile selection at your leisure. Once opened, ensure the box is sealed properly to maintain the crackers' freshness and crispness. Enjoy the taste of a gourmet snack, free from gluten but full of flavour!
This product is not suitable for nut allergy sufferers.
Ingredients:
GLUTEN-FREE ELEGANT & ENGLISH
Buttermilk
Butter (31%) (milk), Tapicoa starch, Sugar, Rice starch, Potato starch, Maize starch, Rice flour, Coca powder (2%), Caramel syrup, Glucose syrup, Invert sugar syrup, Natural flavouring, Raising agents (disodium diphosphate, sodium hydrogen carbonate), Raspberry juice concentrate (0.2%), Sea salt

GLUTEN-FREE MILLER'S TOAST CRANBERRY & RAISIN
Pasteurised EggWhite, Buttermilk, Dried sweetened Cranberries (25%), Sugar, Sunflower oil, Pumpkin seeds, Tapioca Starch, Raisins (13%), Rice Starch, Potato Starch, Gluten Free Oat Flour, Honey (4%), Maize Starch, Dried Apple Pieces, Extra Virgin Olive Oil (3%), Disodium diphosphate, Sodium hydrogen carbonate, Raising agents, Sea Salt, Natural Flavouring.

GLUTEN-FREE MILLER'S DAMSEL CHARCOAL CRACKERS
Buttermilk, Tapioca starch, Rice starch, Potato starch, Corn oil, Gluten-free oat flour (11%), Maize starch, Gluten-free oatmeal (4%), Gluten-free malted barley (4%), Autolysed yeast, Charcoal powder (1%), sea salt, Raising agent: Sodium bicarbonate.