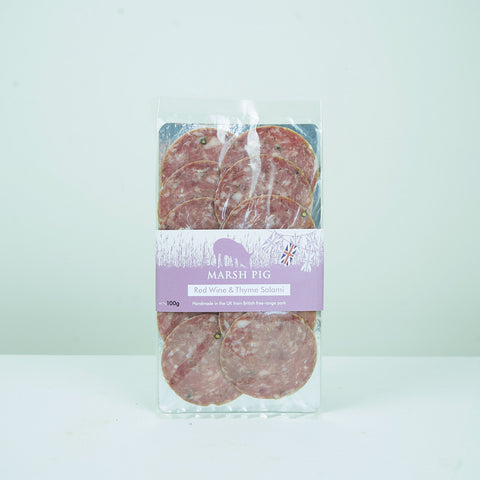 Marsh Pig - Red Wine & Thyme Salami
Marsh Pig - Red Wine & Thyme Salami - Savour the rich, complex flavours of Marsh Pig's Red Wine & Thyme Salami. This artisanal delicacy is crafted from free-range pork and expertly seasoned with aromatic thyme and full-bodied red wine.
The art of slow curing brings out the natural robustness of the pork, while the red wine imparts a subtle depth and the thyme adds a fragrant herbaceous note. The result is a salami with a sophisticated flavour profile that is both indulgent and satisfying.
Perfect as a part of a charcuterie platter, used in sandwiches, or simply enjoyed on its own, the Red Wine & Thyme Salami is a testament to Marsh Pig's commitment to quality and flavour. Pre-sliced and ready to eat, it offers a simple yet refined addition to your culinary delights.
Please note: To ensure maximum freshness and flavour, keep the product refrigerated and consume within a few days of opening.
Ingredients: Free range pork 95.1%, salt, black pepper, red wine, garlic, thyme, dextrose, preservative (sodium nitrite).
For Allergens see ingredients in BOLD.