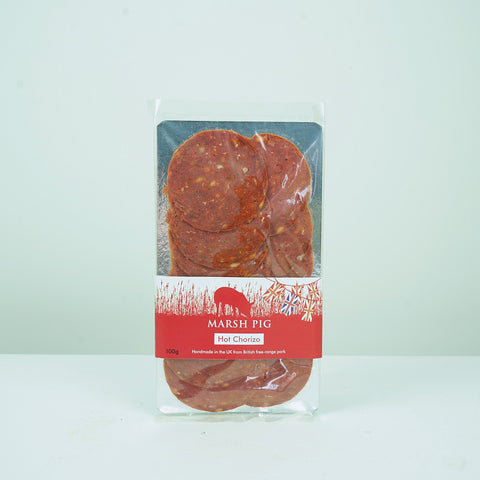 Marsh Pig - Hot Chorizo Salami
Marsh Pig - Hot Chorizo Salami - Indulge in the fiery, full-bodied flavour of Marsh Pig's Hot Chorizo Salami. Crafted from free-range pork and seasoned with a bold blend of Spanish spices, this artisanal salami is a treat for the adventurous palate.
Each slice delivers a punch of flavour, with the rich, succulent pork perfectly balanced by the heat and smokiness of the chorizo spices. The result is a salami that's as invigorating as it is satisfying, with a vibrant taste that lingers.
Ideal for spicing up a charcuterie board, adding depth to sandwiches, or savouring solo, Marsh Pig's Hot Chorizo Salami brings a dash of daring to any occasion. Sliced and ready to eat, it offers an easy way to elevate your culinary experience.
Please note: For the best flavour and freshness, keep this product refrigerated and consume within a few days of opening.
Ingredients: Free range pork 89.41%, salt, hot smoked paprika, garlic, black pepper, dextrose, oregano, cayenne pepper, preservative (sodium nitrite).

For Allergens see ingredients in BOLD.