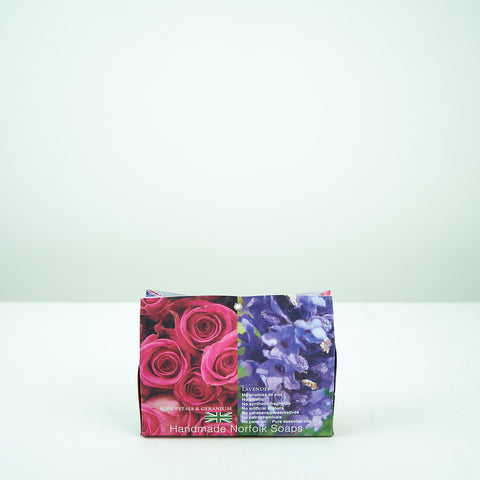 Handmade Norfolk Soaps - Double Pack - Rose Petals and Geranium & Lavender
Experience the enchanting aromas of Handmade Norfolk Soaps Double Pack, featuring Rose Petals, Geranium, and Lavender, expertly crafted locally using natural ingredients. These luxurious soaps ensure a soothing and calming cleanse, perfect for a relaxing bath experience.
Rose Petals and Geranium: Bask in the delightful blend of romantic rose petals and vibrant geranium, promising a refreshing and uplifting cleanse.

Lavender: Enjoy the calming fragrance of lavender, ensuring a tranquil and soothing bath experience.
Support local artisans and enjoy high-quality, fragrant soaps with Handmade Norfolk Soaps – experience the Norfolk difference today!
This double pack contains two delightful soaps bars, ready to enrich your bathing routine.
Approximate weight: 90g per soap (180g)