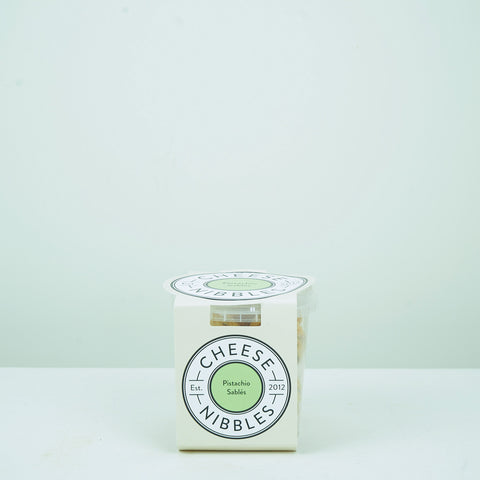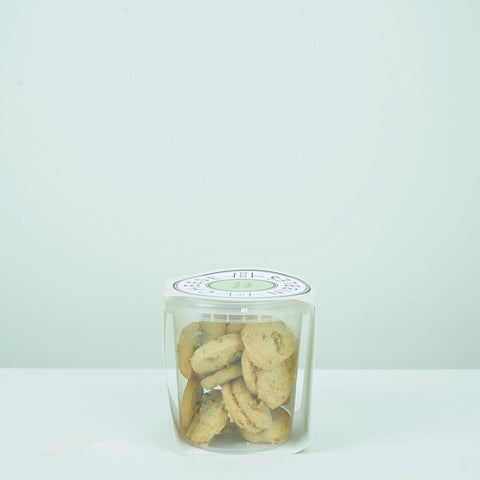 Cheese Nibbles - Pistachio Sablés
Cheese Nibbles - Pistachio Sablés - Experience a true flavour sensation with these delectably crumbly, savoury shortbread biscuits. Each sablé is meticulously crafted with top-quality ingredients, including a generous helping of pistachios for a delightful crunch.
Rich in taste and texture, these Cheese Nibbles offer a delightful contrast between the smooth, buttery shortbread and the subtly sweet, nutty pistachios. This unique blend provides a truly gourmet snack that pairs excellently with a glass of wine or as a sophisticated addition to any cheeseboard.
Presented in stylish packaging, these Pistachio Sablés make a thoughtful gift for any food enthusiast. Alternatively, treat yourself and add a dash of luxury to your snack time with these enticing Cheese Nibbles.
Please note: This product should be stored in a cool, dry place and consumed before the best-before date to ensure maximum taste and freshness.
Please note: Store in a cool, dry place. Once opened, store in an airtight container and consume within 2 weeks.
Best Before: See side of tub.
Ingredients: Flour Wheat Flour, Calcium, Niacin, lion, Thiamin), Gran Moravia Cheese (26%)(Milk, Salt, Rennet from Vegetable Culture, Preservative: Lysozyme Egg Poten), Salted Butter (14%) (Milk, Salt), Vegetable Oils (Sustainable Palm, Rapeseed), Nibbed Pistochio Nuts (12%).
For allergens see ingredients in BOLD.
May also contain tree nuts, sore and eggs. Suitable for Vegetarians.