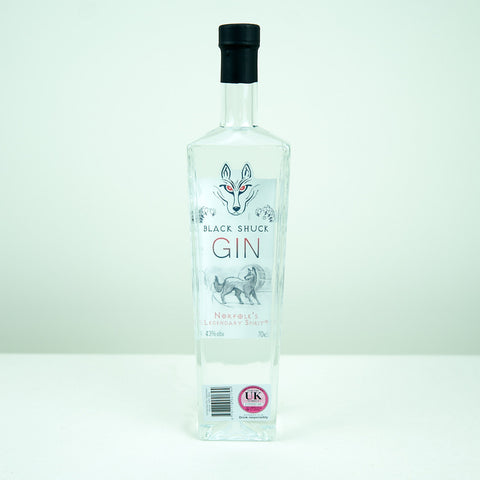 Black Shuck Gin - White Label 70cl
Premium Gin launched in 2015, Black Shuck Gin, uniquely combines traditional botanicals such as juniper, coriander, and bitter orange peel with Norfolk's lavender and sea buckthorn. Distilled with botanicals from Black Shuck's Norfolk Coast.

The Legendary Spirit of Black Shuck is one of the oldest in English folklore. Black Shuck is the name given to a ghostly black dog that has roamed the Norfolk and Suffolk countryside for hundreds of years. According to folklore the demon black dog with huge flaming eyes haunts the lanes and footpaths, particularly along the coastline. Some tales record Black Shuck as a protector or guide, and other more sinister stories tell of a bad omen. However, you will be pleased to learn there is an antidote to the bad omen. A glass of any Black Shuck liqueur will fill you with enough good spirits to counteract any bad spirits.
Alcohol by volume: 43% vol
Capacity: 70cl