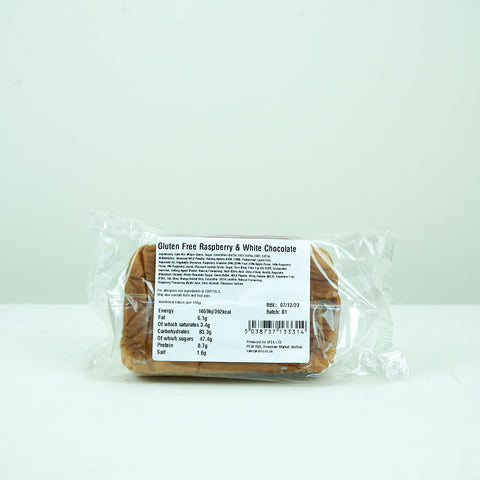 The Real Norfolk Cake Co - Raspberry and White Chocolate Cake
Crafted with passion and precision by the skilled bakers at The Real Norfolk Cake Co, this Raspberry and White Chocolate Cake embodies the art of tasty baking. Using only the best ingredients, they ensure that each cake meets the high standards that dessert lovers expect from The Real Norfolk Cake Co.

Perfect for special occasions or simply as a delightful treat to brighten up an ordinary day, our Raspberry and White Chocolate Cake promises to elevate your dessert experience to new heights.
For the best taste, store the cake in a cool place and consume within three days of purchase.
Ingredients: Cake Mix (Maise Starch, Sugar, Emulsifiers E472b, E470a, E4732, E472c) Maltodextrin, Skimmed MILK powder, Raising Agents (E450, E500), Pasturised Liquid Egg, Rapeseed Oil, Vegetable Glycerine, Raspberry Granules (3%) 35% Fruit (15% Apple Puree, 14% Raspberry, 6% Raspberry Juice), Glucose-fructose syrup, sugar, Rice Meal, Palm Fat (SG RsPo Sustainably Sourced), Gelling Agent, Pectin, Natural Flavouring). Acid Citric Acid, Citrus Fibre, Acidity Regulator Potassium Citrate. White Chocolate: Sugar, Cocoa Butter, MILK Powder, Whey Powder MILK, Vegetable Fats Palm Sal, Shea. Mango Kernel Oils. Emulsifier: SOYA, Lecithin, Natural Flavouring. Raspberry Flavouring, (Acetic acid, ethyl alcohol, Potassium sorbate).