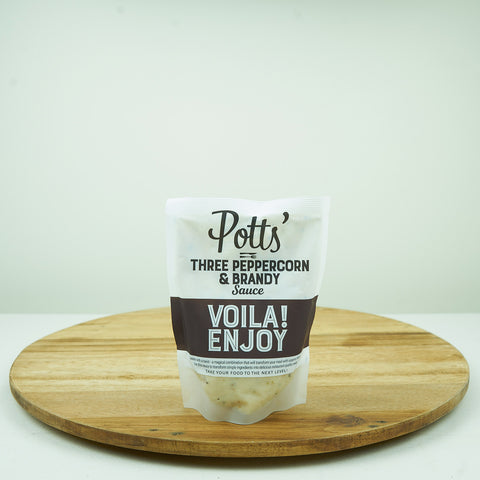 Pott's Three Peppercorn and Brandy Sauce
Indulge in the luxurious blend of our Three Peppercorn and Brandy Sauce, a culinary masterpiece crafted with the finest selection of green, pink, and white peppercorns.
Infused with a dash of high-quality brandy, this sauce boasts a rich and vibrant flavour that turns ordinary dishes into gourmet delights. Its warm, peppery tang can elevate a simple steak to a restaurant-quality meal or add a touch of sophistication to your favourite roasts.
Beyond its remarkable taste, this sauce is a testament to the art of fine culinary crafting. Its smooth texture and well-balanced peppery warmth reflect a dedication to quality that discerning palates will appreciate.
For a truly exceptional dining experience, accompany your meat dishes with our Three Peppercorn and Brandy Sauce. Store in a cool, dry place, and use within a week of opening to experience its flavours at their peak.
Ingredients: Milk, Water, Shallots, Double Cream (Milk), Cornflour, Brandy (2%), Sunflower Oil, Sugar, Concentrated Lemon Juice, Salt, White Wine Vinegar (Sulphites), Peppercorns (Green Pink, Black) (1%), Garlic.