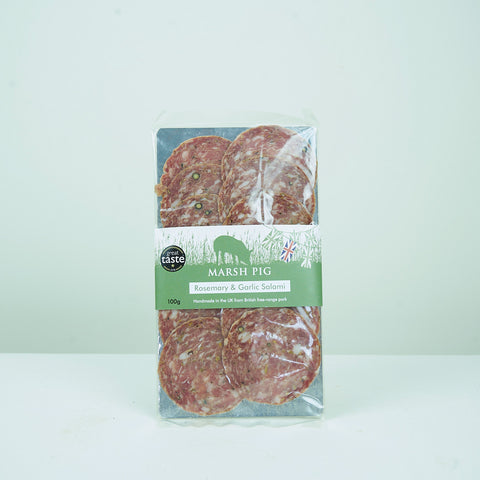 Marsh Pig - Rosemary & Garlic Salami
Marsh Pig - Rosemary & Garlic Salami - Immerse yourself in the depth of flavours offered by this artisanal salami from Marsh Pig. Handcrafted using free-range pork and delicately seasoned with fresh rosemary and fragrant garlic, this salami is a gourmet delight.
The slow curing process allows the richness of the pork to marry with the aromatic blend of rosemary and garlic, resulting in salami with a beautifully balanced, full-bodied flavour profile. Its firm, yet supple texture gives a satisfying mouthfeel with each bite.
Ideal as part of a charcuterie platter, in a sandwich, or simply enjoyed on its own, Marsh Pig's Rosemary & Garlic Salami brings a touch of gastronomic indulgence to any occasion. Sliced and ready to eat, it's a convenient, yet refined addition to your culinary repertoire.
Please note: Keep the product refrigerated and consume within a few days of opening to enjoy it at its best.
Ingredients: Free range pork 95.5%, salt, garlic, black pepper, rosemary, dextrose, preservative (sodium nitrite)
For Allergens see ingredients in BOLD.