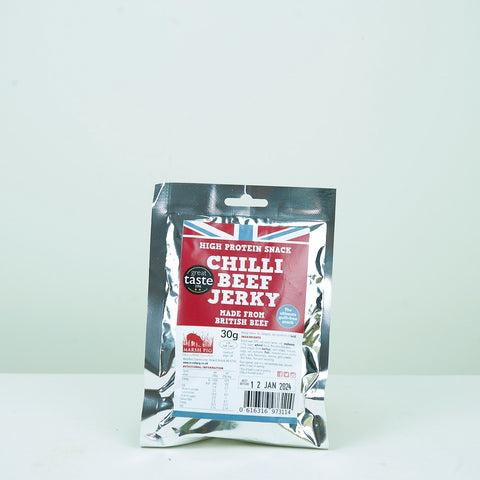 Marsh Pig - Chilli Beef Jerky
Turn up the heat with Marsh Pig's Chilli Beef Jerky. Crafted with a blend of fiery chillies, this jerky brings a touch of spice to your snack time. Each bite offers a satisfying chew and a flavourful kick that is sure to delight those who enjoy a little extra zest.
Made from quality beef and seasoned to perfection, our Chilli Beef Jerky is not only delicious but also a great source of protein. Whether you're on a hiking trail or simply craving a tasty, spicy snack, this jerky is a convenient and satisfying choice.
For an adventurous taste that packs a punch, indulge in Marsh Pig's Chilli Beef Jerky. Store in a cool, dry place and enjoy at its peak within a week of opening.
Awarded 2 Gold stars in the Great Taste awards
Once opened, store in a cool ventilated area, consume within 3 days of opening.
Ingredients: Rare breed British beef, soy sauce (Soybean)Worcestershire sauce (Barley & Fish), chilli flakes, garlic, dextrose, black pepper, cinnamon, fennel, star anise.
See allergens in Bold.