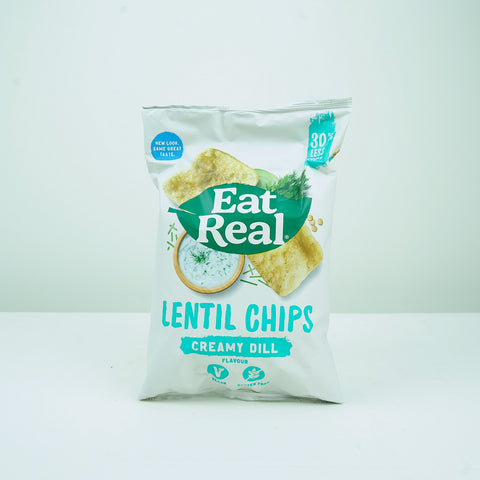 Eat Real Lentil Chips - Creamy Dill
Eat Real Lentil Chips - Creamy Dill - Treat yourself to a snack that's not just tasty, but also packed with nutritious benefits. These lentil chips are infused with the distinctive tang of dill, complemented by a smooth, creamy undertone. They're the perfect companion for your lunchtime sandwich or a snack on their own!
This product includes one packet of Eat Real Lentil Chips - Creamy Dill, sold with a long shelf life. Boasting a high protein and fibre content, these chips are gluten-free and suitable for vegans, providing a healthy snacking option without compromising on flavour.
Enjoy the authentic taste of plant-based snacking! Once opened, keep sealed and consume within a few days for the best crunch!
Ingredients: Lentil flour, potato starch, vegetable oil (rapeseed), creamy dill flavour (dried glucose syrup, rice flour, salt, dextrose, onion powder, yeast extract powder, natural flavourings, citric acid, herbs (including dill).