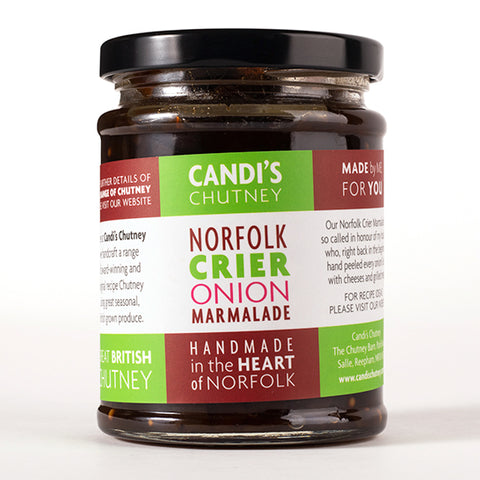 Candi's - Norfolk Crier Onion Marmalade
Candi's - Norfolk Crier Onion Marmalade - Handcrafted by Candi's, this marmalade balances the robust flavour of locally-sourced onions with a touch of sweetness, creating a delightfully tangy addition that elevates any meal.
Perfect as a spread, a grilling glaze, or a ingredient in your recipes, Candi's Norfolk Crier Onion Marmalade promises an exciting burst of flavour in every spoonful. Once opened, ensure you seal the jar tightly and refrigerate to maintain optimum freshness and taste!
Serving suggestion:
Great in a stir-fry sauce or with cheese on toast
Ingredients: (Allergens in bold) Onions (47%) Muscovado Sugar, Red Wine Vinegar (Sulphites), Black Mustard Seeds(Mustard), Black Peppercorns, Sea Salt.