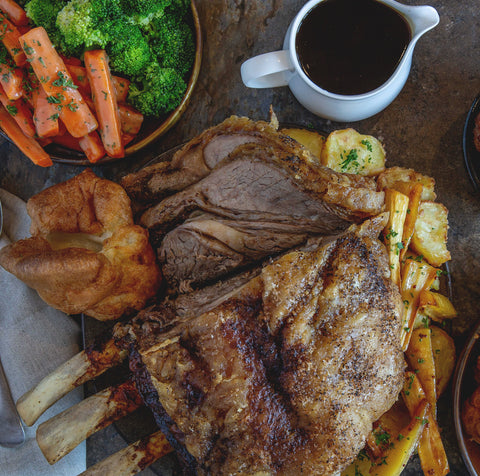 Rib of Beef Hamper
Tired of the same old turkey? Improve your Christmas dinner game with our mouth-watering rib of beef hamper. Bursting with flavour and carefully curated, this all-in-one beef extravaganza saves you time and money, so you can focus on creating unforgettable Christmas memories.
What You'll Get in Your Delectable Christmas Rib of Beef Hamper:
Two-Rib of Beef:

 Tender, succulent, and full of flavour, our two-rib of beef is the star of the show. Cut from prime-aged beef and left on the bone for maximum taste, this cut is perfect for roasting and will have your guests asking for seconds.

Pigs in Blankets (x10):

 A classic Christmas side, these 10 delicious pigs in blankets are seasoned to perfection, providing a burst of flavour with every bite.

Gammon Joint (1.5-2kg):

 Our 1.5-2kg gammon joint adds a tender and juicy addition to your feast, making it the perfect companion to our rib of beef.

Beef Gravy (250g):

 Savour the rich, velvety goodness of our 250g beef gravy. This flavourful pouring sauce will bring each element of your meal together in perfect harmony.

Frozen Yorkshire Pudding Mix (500ml):

 Get ready for the lightest, crispiest Yorkshire puddings you've ever tasted. Our 500ml frozen mix guarantees perfect results every time with minimal effort on your part.

Horseradish Sauce (200g):

 Spice up your meal with our zesty, tangy 200g horseradish sauce that packs a punch while perfectly complementing the tender beef.

Beef Dripping (250g):

 Rendering your roast potatoes extra crispy, our 250g beef dripping lifts your side dishes to a whole new level.
Why the Rib of Beef Hamper is Perfect for Your Christmas Dinner:
Switch up your traditional Christmas dinner with our Rib of Beef Hamper, and enjoy a meal that's perfect for both seasoned beef lovers and those looking for something new. Our carefully selected ingredients ensure your dinner is full of flavour, tender meats, and joyful moments. The hamper includes everything you need, simplifying your holiday meal prep and making your festive season feast a worry-free experience.
This product is only available for collection or delivery for Christmas.
Ingredients:
Beef (100%)
Origin:
UK
Shelf Life:
Minimum 26th December 2023
What is the last date I can place my order by?
All online Christmas orders will be required by 15th December 2023. Orders placed in store are required by 10th December 2023. We recommend ordering as early as possible to avoid disappointment. Due to shortages of certain products we anticipate to sell out a lot earlier than the 15th December 2023.
We try our best to ensure stock levels are accurate at any given time. However, the closer we get to Christmas stock will become unavailable and in the unfortunate instance the size or item you have purchased is unavailable we will contact you directly with alternative options.
What if I want to change or cancel my order?
Once your order has been placed we get to work straight away!
We can alter or change orders for Christmas meat products up to 5th December subject to our approval. Unfortunately, any requested changes after this date especially changing an items size or removing items from an order we will not be able to do. This is due to supplier restrictions and order deadlines.
We unfortunately do not accept any returns or refunds for any perishable items. More information can be found on our refunds policy.
Yes! When you place your Christmas order through our website you will be given an option to choose to either have your order posted or to collect at the farm shop.
This year collections from our Walsingham Farm Shop are:
Friday 22nd December 2023, 9am - 5pm
Saturday 23rd December 2023, 9am - 5pm
Sunday 24th December 2023, 9am - 1pm
Unfortunately, this year we will not be able to offer a Christmas collection from our Norwich Market stall. So we recommend you select the posted option in this instance... or come see us in Little Walsingham!
Please remember to bring your order confirmation email with you so we can quickly find the correct order! Please don't forget if you send someone on your behalf we may require your ID and order confirmation before handing over your order.
If I get my order posted when will it be delivered?
As with all our chilled and frozen deliveries we will pack your Christmas order sufficiently to endure 48hrs+ of delivery.
However, all our perishable goods deliveries are sent either by DPD 24hr delivery or Parcelforce 24hr delivery.
Unfortunately, due to courier demands we would not be able to guarantee a delivery time on the day. We therefore encourage you to either be available all day to receive the items or leave clear and precise alternative delivery instructions when placing your order. You will be able to track your order using the couriers online tracking system. Should you have any concerns please do contact us directly.
This Christmas we aim to dispatch all orders on Thursday 21st December 2023 to arrive Friday 22nd December 2023 or Saturday 23rd December 2023.
For further information see our shipping policy.
Go to top