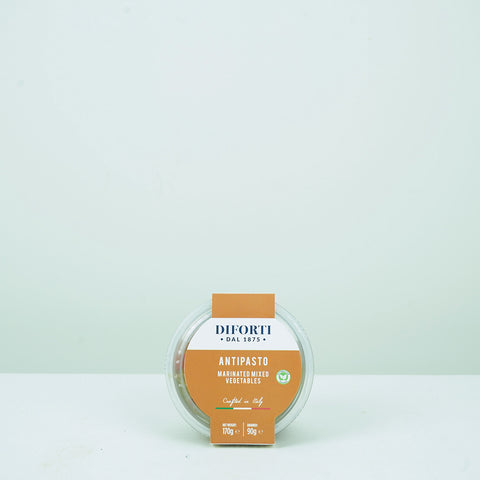 DIFORTI - Antipasto - Marinated Mixed Vegetables
DIFORTI - Antipasto - Marinated Mixed Vegetables - Enjoy a taste of Italy at your dining table with DIFORTI's Marinated Mixed Vegetables. This sumptuous antipasto is a delightful mix of selected vegetables marinated in a blend of high-quality oils and aromatic herbs.
Each jar of DIFORTI's Marinated Mixed Vegetables features a range of garden-fresh vegetables, including peppers, courgettes, and aubergines. They've been gently marinated to retain their crispness while absorbing the rich flavours of the marinade, providing a delightful combination of textures and tastes.
Perfect for an antipasto platter, tossed through pasta, or as an accompaniment to grilled meats, these marinated vegetables are a versatile addition to any meal. Packed in an easy-to-use, resealable jar, they'll remain fresh and full of flavour.
Please note: After opening, ensure the jar is properly sealed and stored in the refrigerator to maintain freshness and quality.
Ingredients: Sunflower Oil, Green & Black Pitted Olives, Artichokes, Mini Gherkins, Sweet Peppers, Mushrooms (Agaricus Bisporus), Sun Dried Tomatoes, Extra Virgin Olive Oil, Parsley Paste, Herbs (Oregano, Mint, Chilli), Salt, Wine Vinegar.
For Allergens see ingredients in BOLD.