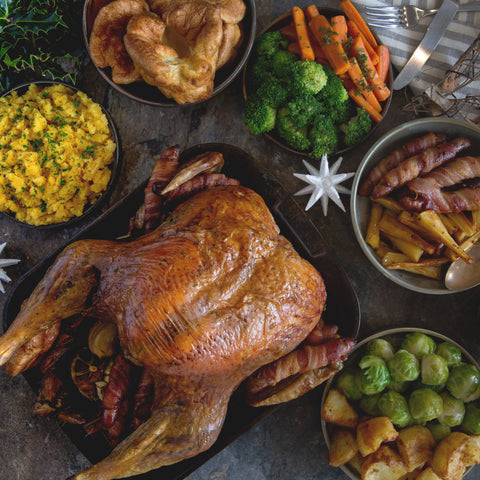 Whole Turkey Hamper
Experience the magic of the holidays with our premium whole turkey hamper, promising a delightful and stress-free Christmas dinner full of tradition and flavour. The luxurious combination of classic festive favourites is guaranteed to impress your family and friends, while the carefully selected ingredients ensure a mouth-watering meal full of the highest quality items. Embrace the joy of Christmas with our festive hamper, leaving you more time to create cherished memories with your loved ones.
What's Included in the Whole Turkey Hamper?
Great Grove Whole Bronze Turkey (4-5kg)

 - Experience the tenderness and rich flavour of this succulent, free-range bronze turkey, expertly prepared to ensure tender and luscious meat while maintaining its beautiful bronze skin.

Pigs in Blankets (x10)

 - A Christmas classic! Bite into these juicy and delicious pork sausages wrapped in mouth-watering bacon, making your festive feast complete.

Sage and Onion Stuffing (450g)

 - Aromatic sage and subtle onion flavours meld perfectly in this scrumptious stuffing, adding that extra touch to your unforgettable Christmas meal.

Gammon Joint (1.5-2kg)

 - Feast on a generous 1.5-2kg gammon joint bursting with juicy flavour, creating the perfect alternative or accompaniment to your Christmas turkey.

Turkey Gravy (500g)

 - Rich and silky-smooth, this turkey gravy adds the perfect finishing touch to your entire meal, elevating your dishes to the next level.

Sourdough Bread Sauce (250g)

 - Indulge in this creamy, delicious sauce made from high-quality sourdough bread, complementing your Christmas feast flawlessly.

Cranberry Sauce (260g)

 - A holiday staple, our tangy and sweet cranberry sauce enhances the succulent flavours of your turkey, transforming every bite into a celebration.

Duck Fat (320g)

 - Golden and decadent, this duck fat will ensure your roast potatoes are crisp on the outside and fluffy on the inside, perfecting your Christmas dinner.
Why Choose the Whole Turkey Hamper?
The whole turkey hamper eliminates the stress of ordering the ultimate festive meal, letting you enjoy a scrumptious and flavourful dinner with ease. Not only do you get a delicious, free-range bronze turkey, but you also receive a full assortment of classic holiday favourites in a single, convenient package. Expertly curated to create the perfect Christmas dining experience, our high-quality ingredients deliver a memorable feast that will have everyone asking for seconds. Plus you saving you money!
This product is only available for collection or delivery for Christmas.
Ingredients:
Turkey (100%)
Origin:
UK
Shelf Life:
Minimum 26th December 2023
What is the last date I can place my order by?
All online Christmas orders will be required by 15th December 2023. Orders placed in store are required by 10th December 2023. We recommend ordering as early as possible to avoid disappointment. Due to shortages of certain products we anticipate to sell out a lot earlier than the 15th December 2023.
We try our best to ensure stock levels are accurate at any given time. However, the closer we get to Christmas stock will become unavailable and in the unfortunate instance the size or item you have purchased is unavailable we will contact you directly with alternative options.
What if I want to change or cancel my order?
Once your order has been placed we get to work straight away!
We can alter or change orders for Christmas meat products up to 5th December subject to our approval. Unfortunately, any requested changes after this date especially changing an items size or removing items from an order we will not be able to do. This is due to supplier restrictions and order deadlines.
We unfortunately do not accept any returns or refunds for any perishable items. More information can be found on our refunds policy.
Yes! When you place your Christmas order through our website you will be given an option to choose to either have your order posted or to collect at the farm shop.
This year collections from our Walsingham Farm Shop are:
Friday 22nd December 2023, 9am - 5pm
Saturday 23rd December 2023, 9am - 5pm
Sunday 24th December 2023, 9am - 1pm
Unfortunately, this year we will not be able to offer a Christmas collection from our Norwich Market stall. So we recommend you select the posted option in this instance... or come see us in Little Walsingham!
Please remember to bring your order confirmation email with you so we can quickly find the correct order! Please don't forget if you send someone on your behalf we may require your ID and order confirmation before handing over your order.
If I get my order posted when will it be delivered?
As with all our chilled and frozen deliveries we will pack your Christmas order sufficiently to endure 48hrs+ of delivery.
However, all our perishable goods deliveries are sent either by DPD 24hr delivery or Parcelforce 24hr delivery.
Unfortunately, due to courier demands we would not be able to guarantee a delivery time on the day. We therefore encourage you to either be available all day to receive the items or leave clear and precise alternative delivery instructions when placing your order. You will be able to track your order using the couriers online tracking system. Should you have any concerns please do contact us directly.
This Christmas we aim to dispatch all orders on Thursday 21st December 2023 to arrive Friday 22nd December 2023 or Saturday 23rd December 2023.
For further information see our shipping policy.
What size turkey do I need?
This is never an easy question to answer. Everyone eats different amounts after all!!
However, we have added a servings suggested guide to each weighted item to give you some help when choosing what size poultry you need. Use this as a helpful guide but for those that have plenty of hungry guests and want leftovers, order a size larger. For those with lots of excited small children order a size smaller.
How do I prepare and cook my turkey?
Herb Roasted Turkey
This mouth-watering roasted turkey recipe, masterfully infused with rosemary, thyme, and other flavorful ingredients, is perfect for all your festive events. Its succulent and juicy taste will delight your guests and leave them craving for more. Plus, we've included options for brining the bird to ensure it stays moist and flavorful throughout. Also, keep an eye out for tips on serving and presenting the dish to enhance its overall appearance and taste.
Ingredients:
1 x whole turkey or turkey crown
1 x onion
1 x orange, clementine or lemon
Fresh rosemary, thyme, and bay leaves
2 x garlic cloves
Salt and pepper
Optional brine solution (for 24hrs before cooking): water, salt, sugar, and optional aromatics (garlic, herbs, spices, etc.)
Quantities: Adjust the ingredients' quantities according to the size of the turkey or turkey crown.
Step-by-Step Guide
1. Optional Brining: To ensure extra juiciness and flavor, place the whole turkey or crown in a brine solution 24 hours before cooking. Prepare the brine by mixing water, salt, and sugar in a large pot until dissolved, and then add your choice of aromatics. Submerge the bird in the brine and refrigerate for 24 hours.
2. Remove the turkey from the fridge and unwrap at least an hour before cooking.
3. Place the bird in a roasting tin, breast-side up. Preheat the oven to 220°C/Gas 7.
4. Cut an onion into 4-6 pieces. Place some onion pieces in the cavity. Halve or quarter an orange, clementine, or lemon. Place them inside the cavity with a few sprigs of rosemary, thyme, and/or bay leaves, and 1-2 garlic cloves.
5. Generously season the bird with salt and pepper, making sure to rub it thoroughly. Scatter the remaining onion pieces and some rosemary around the turkey. Flip it over, so it's breast-side down—this helps the layer of fat baste the breasts during cooking. Repeat the seasoning process.
6. Roast the turkey for 20-30 minutes, until bronzed.
7. Reduce the oven temperature to 170°C/Gas 3 and cook according to the following guideline:
Whole Norfolk bronze turkey:
4kg - 2 hours
5kg - 2½ hours
6kg - 3 hours
7kg - 3 ½ hours
8kg - 4 hours
9kg - 4 ½ hours
Whole Norfolk black turkey:
4kg - 1 ½ hours
5kg - 2 hours
6kg - 2 ½ hours
7kg - 3 hours
8kg - 3 ½ hours
9kg - 4 hours
Norfolk bronze turkey crown:
3kg - 1 ½ hours
4kg - 2 hours
5kg - 2 ½ hours
6kg - 3 hours
7kg - 3 ½ hours
8. Trust your instincts! Ovens vary, but your good judgment doesn't. If the turkey seems done before the suggested time, perform the pierce test: insert a knife into the fattest part of the leg. If the juices run clear, it's ready.
9. Carefully flip the turkey back to breast-side up, increase the oven temperature to 220°C/Gas 7, and roast for an additional 20 minutes until the breast is golden.
10. Allow the turkey (and yourself) to rest for at least an hour before carving.
How do I store my turkey?
We know for years your grandparents and their grandparents before them have stored the Christmas turkey in the shed or garage. However, we strongly, in fact wholeheartedly discourage you from doing this! After all we don't want you waking up on Boxing Day with a poorly tummy... or worse!
We therefore recommend that when you receive your Christmas poultry you unwrap it from all the outer packaging, remove any giblets (if applicable) from the cavity or surrounding packaging and put your Christmas poultry and giblets on a plate or tray and straight into your fridge. Allow plenty of air circulation to ensure the cold air surrounds the meat and ideally turn your fridge down to 1c - 4c.
Go to top